You are here

About Retirement Ed
About Retirement Ed
One of SilverStar Financial's missions is to provide comprehensive financial education to individuals, corporations, and organizations within our community. SilverStar Financial, Inc. focuses on helping clients grow, protect, and distribute wealth tax efficiently while minimizing risk to meet their lifestyle goals, using our 3-DIMENSIONAL RETIREMENT PLANNING™ process.
More than 80% of investors would appreciate having basic, unbiased investor education and information.1
1 FINRA Investor Education Survey, 2007
Our Presenters
We have access to a network of professionals in the areas of financial and retirement planning, estate planning, tax accounting, Social Security options, and health and fitness. All of our seminar presenters are specialists in their respective fields of practice and must commit to the following:
Presenters must provide unbiased education.
Seminar participants will be informed on how to find and evaluate advisors/professionals to help implement the knowledge learned.
Some seminar presenters may also offer complimentary consultations to seminar attendees.
Our Seminars
We offer a wider variety of seminars/webinars covering numerous topics ranging in duration from 45 minutes to 6 hours.
Public Seminars
CLICK HERE to view our Upcoming Public Seminars, or call us at 281-477-3847 to discuss arranging a seminar or speaking engagement for your organization.
Corporate Financial Seminars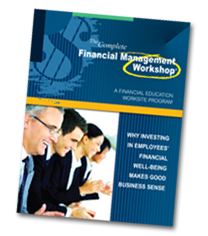 Investing in Employees' Financial Well-Being Makes Good Business Sense
The fact is, we spend most of our adult lives coping with financial issues, yet we receive virtually no formal financial education to prepare us for these challenges. By sponsoring a financial education program, you have the opportunity to improve your employees overall financial well-being and in return, improve their performance at the workplace.
A growing body of research shows 57% of employers state that financial advice and guidance programs can be effective in improving employee productivity.2
2 Consumer Financial Protection Bureau, 2014
Our seminars can expand far beyond what most 401(k) education programs may offer, and at your request,can also incorporate details of your employee benefit information during the seminars to assist you in better educating your employees on their benefit options.
Our seminars can range in duration from 45 minutes to 6 hours depending on employee needs and time restraints, and can be presented at your location or an off-site location. All of our seminars include workbooks for participants. Many of our Basic Seminars are also presented as a community service at no cost to the employer or employee.